Manila Forwarder's Singko de Mayo Sale
Manny Paez

Shipping cost is increasing almost every month as there is a lack of shipping containers going to Asia. This has resulted in about 100% increase in shipping cost based on the year 2000 rates.

This condition is further aggravated by slower pace of sailing of ocean vessels to save fuel consumption, thereby lessening the carbon imprints of these humungous ships. Unlike before that sailing time to Port of Manila is only 17 days, now the fastest vessel available takes at least 21 days to reach the Port of Manila.

In spite of this, a lot of new balikbayans box companies are sprouting out like mushrooms in the Pilipino community offering ridiculous low rates.

Now, the US and Philippine government has started a crackdown on this by examining the supposedly balikbayans box shipments and some of this resulted in positive results on illegal activities.

Some of these unprofessional balikbayans box companies are offering low balikbayans box rates to cover their unscrupulous activities resulting in seizures of a number of containers.

Sad to say, most of these balikbayans boxes from fly by night companies will never be delivered.

These facts were not meant to scare off our kababayans in shipping balikbayans boxes but to remind the consumer that common sense is important in choosing the right company. Shipping balikbayan boxes is still the best way to share ones blessings as this allows them to feel and enjoy the good things from USA. No doubt, a lot better than cash. Balikbayan box shipping also provides multiplier effect on the value of of ones gift vis-a-vis cash.

A purging of the existing balikbayans box companies is expected as a result of all of this. Some will just close shop; some will continue using a different name.

Balikbayan box shipping rates is expected to increase in a few weeks as the General Rate Increase (GRI) has reached a point that there is no more profit to be made with the existing prices of fly by night companies.

As a last chance for cheap shipping and in time for the opening of classes next month, Manila Forwarder kicks off the month with their annual "Singko de Mayo Sale".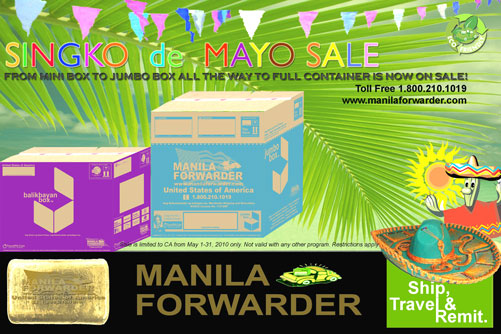 Balikbayan boxes to all areas of Luzon are only $55 while those bound to Visayas and Mindanao is only $65. For Manila Forwarder's flagship product, the jumbo box, it's only $65 all over Luzon and $75 to Visayas and Mindanao. This sales campaign is valid all over California only. Shipments can also be brought to their various "Do it Yourself" locations for further discount that goes as low as $20.

The company is generally regarded as the top of the line balikbayan box company because of their extra-ordinary service quality, offers their services at a discounted rate only twice a year, one on January and one on May.
Manila Forwarder spare no expenses in being the leader in balikbayans box technology offering uncommon features like 24/7 customer support that rotates between their Los Angeles and Manila offices. This allows US-based clients to directly talk to their Manila office on various matters of concern. Both USA and Manila offices are open 7 days a week to accommodate the busy schedule in the USA.

Manila Forwarder also offers the most durable box in the market. Its boxes are sealed and those bound to Visayas and Mindanao are wrapped in durable plastic and strapped for extra protection.

The company was also the first company that offers online package tracking allowing clients to get the latest on their shipments; clients can also request a box or schedule a pick up online

The company website, www.manilaforwarder.com shows the departure and arrivals of their shipments." on real time". For various shapes and sizes of shipments, the website provides instant rate calculator.

Being in the forefront of technology, Manila Forwarder also offer's eco-friendly shipping containers, the Bianca and Roland drums that are reusable.

For efficiency and security, Manila Forwarder shipments are handled in the Philippines by their own office, Manila Forwarder Phil, Inc that is strategically located inside North Harbor, Manila.

Manila Forwarder California was established in 1998 in a humble apartment in Eagle Rock Blvd, Los Angeles, CA by Manny Paez, a former member of US Marines Special Unit Chemical Biological Incident Response Force, 2nd Surveillance, Recon and Intel Group.

The company has transformed as one of the leading balikbayan box company with operations in different parts of the country and the world.

Aside from balikbayan box services, it is now one of the leading relocation providers for returning residents from the USA to the Philippines. This service is included in the "Singko de Mayo SALE" with container shipping rates drastically reduced. Not included in the sale is Manila Forwarder's 5 day shipping service, which is also available whole year round.

The company has been featured in various TV shows like ABS-CBN's Kabuhayang Swak na Swak, OFCW with Susan K, Janelle So's Kababayan LA among others.

Manila Forwarder also invested more technology to its Philippine offices that results in an unmatched customer service that no present balikbayan box company can match. All of its delivery trucks are equipped with GPS Navigation courtesy of its sister company, www.garmin.com.ph, for quicker delivery turn around and positive customer experience.

The company is also not just a balikbayan box company. It is a full service licensed NVOCC/ Freight Forwarder. It can ship diverse commodities in the the USA and in the Philippines.

Manila Forwarder, Phil, Inc also offers shipment from the Philippines to USA on a bi-monthly basis for as low as $150 per balikbayans box.

The company also offers relocating services within the Philippines or to any part of the world

A diverse company adapting to the needs of the clients, Manila Forwarder also offers the lowest airfare to the Philippines. Its travel company operates TravelPH.Com. The company is store-front combined with web-base features with its own 24/7 live telephone and chat support. It also has its own Manila Offices and transportation fleet that offers consolidator rates. Its online booking is directly connected to more than 300 airline system to instantly find the lowest rate to any world destinations.

The company is also a very aggressive expansion mode in different parts of the USA and the world. For opportunities and inquiries about Manila Forwarder Group services, please log on to www.manilaforwarder.com or call 1.800.210.1019.

Add us on facebook at www.facebook.com/manila.forwarder