Manila Forwarder Promo for June 2010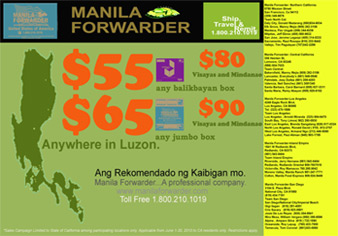 Sales campaign limited to State of California among participating locations only. Applicable from June 1-30, 2010 to CA residents only. Restrictions apply. For more info about the rates and particpating locations pls click the image on the right side.

Manila Forwarder 5 Days Service
For small and big shipments that needs to be there ASAP, Manila Forwarder offers air cargo shipments. It departs every Friday noon and we'll have it delivered by Wednesday. Read more.

Philippine Based Clients
Some Pinoys go to the extend of asking their overseas friends and relatives to do the shopping, packaging, and shipping for them. But who would like to bother your busy friends and relatives while there is a bonded-professional company that could do it for you.

Manila Forwarder will be your own US address and will allow you to shop worldwide.

This system can also be used by Returning Resident as their mail-forwarding service. Read more.

Manila to USA Shipments
Balikbayan box shipments from Manila to Los Angeles and other parts of the USA. From balikbayan box, Less than Container Load to Full Container Loads. More info.