Pabili Program (Buy for me)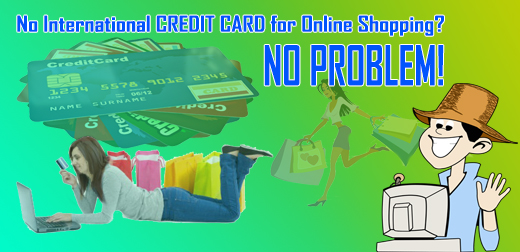 No International Credit Card for online Shopping? No Problem!
Manila Forwarder can do the buying for you and ship it to your address in the Philippines. All you have to do is make a deposit to our Banco De Oro Peso or Dollar Bank Account and we will buy and ship the item to your door. Thats simple.
ACCOUNT SET-UP:
STEP 1.
Click "APPLY NOW" and Set up a FREE Online Shopper account with us.

Note: Make sure you attach your government issued ID on your application. You may be contacted by Manila Forwarder personnel for verification. But as long as you have submitted valid information, you may start browsing at any online stores.

IP address and info of fraudulent transactions are reported to FBI and PCTC.
STEP 2.
You email us the complete URL or website address of the item you would like us to purchase for you and deliver to your door in the Philippines.

Get all the pertinent information of the item that you like including SKU, model, item number, color, size, price sales tax, local shipping cost, package shipping specifications ( lenght, width, height, weight ), the total cost.
STEP 3.
Continue with your online purchase using the delivery address:
3228 Madera Ave, Los Angeles, CA 90039.
STEP 4.
This would allow you to determine the all inclusive price of the item, including sales tax and delivery fee ( Please indicate your choice ).
STEP 5.
Stop the process before making an online payment to the store and email us the total price. Also indicate in your email if your choice of shipment method to your address in the Philippines. Ocean Cargo takes about a month and air cargo takes about a week to Metro-Manila. Add a few more days to provinces.

See our Shipping Rate Calculator: « HERE » (choose between Ocean or Air cargo)

Some items like electronics, luxury, commercial items, among others are subject to taxes, duties, and VAT. Add 20% of the total for taxable items like this. Most personal goods are tax free.

You may also opt a UPS, FedEX or DHL delivery. Please see their website for the rates.
STEP 6.
Using the total price, make a dollar online transfer or deposit to:

PH Bank Information:
Banco De Oro
No.224 J.P. Rizal St., Brgy. Pag-asa, Obando, Bulacan
Phone: 294.0690
Dollar Account Name: Manila Forwarder Phil, Inc.
Account Number: xxx pls call our office xxx
Routing Number: 100530043
CHIPS/UID: 009297
Swift Code: BNORPHMM

If you want to pay in Philippine peso, please let us know and we will provide you with a PH Peso account. We will use BDO's US Dollar Selling Rate.

If you prefer paying via paypal, please send payment to manila.forwarder @ yahoo . com
STEP 7.
Email pabili@manilaforwarder.com the deposit slip or online transfer information.
STEP 8.
Manila Forwarder will purchase the item for you according to your instructions.
Upon the arrival of your item at our Northridge office, you will receive:
a) Confirmation of your shipping order and payment accuracy
b) Manila Forwarder tracking number where you can track your item's arrival online
STEP 9.
Everything must be prepaid and there is no COD. NO item will be purchased in your behalf without the proof of payment first.
STEP 10.
Wait for your shipment at your address. UPS, FedEX, and DHL method may vary. Please consult their website for details.

Final Step: Receive your item at your door. No hassle. We will handle the customs processing.
RESTRICTIONS
Click here for the restricted items.
INSURANCE
Each Balikbayan box or Jumbo Box is insured for $200 only. Additional Insurance is available for $5 for every $100 . It's your option!

There is no insurance against breakage.
Please use our crating services for breakable items.

WE RESERVE THE RIGHT TO CANCEL SERVICES TO FRAUDULENT & ABUSIVE CUSTOMERS.

Our shipping method is one of the cheapest in the logistic industry. We would like to maintain it that way for the benefit of the majority. For those who demand services beyond the budget of what we charge, we can also ship via UPS, FedEx, and DHL. Please contact us.
United States Postal Service, UPS, FedEx, DHL delivers your orders to our hub at least twice a day. For added savings on bulk trucking cost, Manila Forwarder have a loading dock facility and forklifts.